The Lost Symbol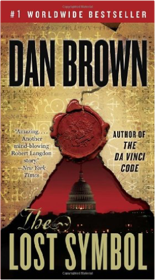 Dan Brown
In this stunning follow-up to the global phenomenon The Da Vinci Code, Dan Brown demonstrates once again why he is the world's most popular thriller writer. The Lost Symbol is a masterstroke of storytelling that finds famed symbologist Robert Langdon in a deadly race through a real-world labyrinth of codes, secrets, and unseen truths . . . all under the watchful eye of Brown's most terrifying villain to date. Set within the hidden chambers, tunnels, and temples of Washington, D.C., The Lost Symbol is an intelligent, lightning-paced story with surprises at every turn.  This is Dan Brown's most exciting novel yet.
My Life in France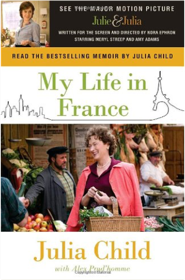 Julia Child, Alex Prud'Homme
Julia Child single handedly awakened America to the pleasures of good cooking with her cookbook Mastering the Art of French Cooking and her television show The French Chef, but as she reveals in this bestselling memoir, she didn't know the first thing about cooking when she landed in France.

Indeed, when she first arrived in 1948 with her husband, Paul, she spoke no French and knew nothing about the country itself. But as she dove into French culture, buying food at local markets and taking classes at the Cordon Bleu, her life changed forever. Julia's unforgettable story unfolds with the spirit so key to her success as as a cook and teacher and writer, brilliantly capturing one of the most endearing American personalities of the last fifty years.
Pirate Latitudes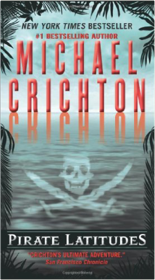 Michael Crichton
The Caribbean, 1665. A remote colony of the English Crown, the island of Jamaica holds out against the vast supremacy of the Spanish empire. Port Royal, its capital, is a cutthroat town of taverns, grog shops, and bawdy houses. In this steamy climate there's a living to be made, a living that can end swiftly by disease—or by dagger. For Captain Charles Hunter, gold in Spanish hands is gold for the taking, and the law of the land rests with those ruthless enough to make it.

Pirate Latitudes is Michael Crichton at his best: a rollicking adventure tale pulsing with relentless action, crackling atmosphere, and heart-pounding suspense.
Love, Ellen: A Mother/Daughter Journey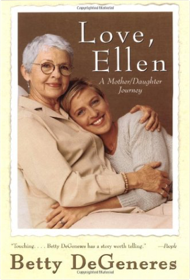 Betty Degeneres
"Mom, I'm gay."With three little words, gay sons and daughters can change their parents' lives forever. Twenty years ago, during a walk on a Mississippi beach, Ellen DeGeneres spoke those simple, powerful words to her mother. That emotional moment eventually brought mother and daughter closer than ever, but it was not without a struggle. In Love, Ellen, Betty DeGeneres tells her story: the complicated path to acceptance and the deepening of her friendship with her daughter, the media's scrutiny of their family life, and the painful and often inspiring stories she's heard on the road as the first nongay spokesperson for the Human Rights Campaign's National Coming Out Project.

Insightful, universally touching, and uncommonly wise, Love, Ellen is a story of friendship between mother and daughter and a lesson in understanding for all parents and their children. "Mom, I'm gay." With three little words, gay children can change their parents' lives forever. Yet at the same times it's a chance for those parents to realize nothing, really, has changed at all; same kid, same life, same bond of enduring love.

Twenty years ago, during a walk on a Mississippi beach, Ellen DeGeneres spoke those simple, powerful words to her mother. That emotional moment eventually brought mother and daughter closer than ever, but not without a struggle. Coming from a republican family with conservative values, Betty needed time and education to understand her daughter's homosexuality — but her ultimate acceptance would set the stage for a far more public coming out, one that would change history.

In Love, Ellen, Betty DeGeneres tells her story; the complicated path to acceptance and the deepening of her friendship with her daughter; the media's scrutiny of their family life; the painful and often inspiring stories she's heard on the road as the first non-gay spokesperson for the Human Rights Campaigns National Coming Out Project.

With a mother's love, clear minded common sense, and hard won wisdom, Betty DeGeneres offers up her own very personal memoir to help parents understand their gay children, and to help sons and daughters who have been rejected by their families feel less alone."Mom, I'm gay." With three little words, gay children can change their parents' lives forever. Yet at the same times it's a chance for those parents to realize nothing, really, has changed at all; same kid, same life, same bond of enduring love.

Twenty years ago, during a walk on a Mississippi beach, Ellen DeGeneres spoke those simple, powerful words to her mother. That emotional moment eventually brought mother and daughter closer than ever, but not without a struggle. Coming from a republican family with conservative values, Betty needed time and education to understand her daughter's homosexuality — but her ultimate acceptance would set the stage for a far more public coming out, one that would change history.

In Love, Ellen, Betty DeGeneres tells her story; the complicated path to acceptance and the deepening of her friendship with her daughter; the media's scrutiny of their family life; the painful and often inspiring stories she's heard on the road as the first non-gay spokesperson for the Human Rights Campaigns National Coming Out Project.

With a mother's love, clear minded common sense, and hard won wisdom, Betty DeGeneres offers up her own very personal memoir to help parents understand their gay children, and to help sons and daughters who have been rejected by their families feel less alone.
The Shaman Sings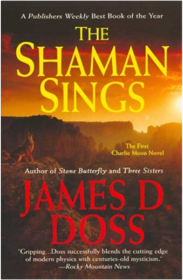 James D. Doss
The shocking death of a female physics student has shattered the peaceful community of Granite Creek, Colorado—and police chief Scott Parrish has a hunch he can't even begin to explain. He saw the killing…in his dreams. 

Daisy Perika experienced the same visions. An aged Ute shaman who lives in a trailer on the lonesome highlands, hers is the realm of the Native American spirit. But Daisy doesn't need scientific proof to know that the student's breakthrough discovery was to kill for. And it isn't over yet.

Parrish wants to believe that Daisy can unleash the truth. But will her visions of Coyote and fire make for evidence in a court of law? Now it's up to Parrish and Daisy's nephew, Tribal Police investigator Charlie Moon, to summon the supernatural and seize the killer—before he strikes again
Finger Lickin' Fifteen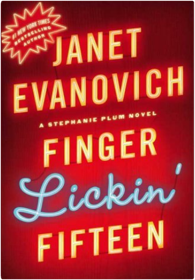 Janet Evanovich
Book Description
SAVE THE DATE: Tuesday, June 23, 2009

EVENT: The next Stephanie Plum novel, in which complications arise, loyalties are tested, cliffhangers are resolved, and donuts are eaten.

WHERE: Wherever books are sold across America

WHAT TO BRING: Sunglasses, insect repellant, a flotation device, suntan lotion, cheez-doodles, extra-large towel, fire extinguisher, baseball bat, lip balm, monkey leash, sixty three pieces of chewing gum, and one canister of oxygen (don't ask). Hey, it's a Stephanie Plum novel!

Janet Evanovich and Michael Connelly: Author One-to-One
In this Amazon exclusive, we brought together blockbuster authors Janet Evanovich and Michael Connelly and asked them to interview each other. Find out what two of the top authors of their genres have to say about their characters, writing process, and more. Michael Connelly is the bestselling author of the Harry Bosch series of novels as well as The Poet, Blood Work, Void Moon, Chasing the Dime, and the #1 New York Times bestseller The Lincoln Lawyer. He is a former newspaper reporter who has won numerous awards for his journalism and his novels. Read on to see Michael Connelly's questions for Janet Evanovich, or turn the tables to see what Evanovich asked Connelly.

Connelly: Let's get the business out of the way. What's Finger Lickin' Fifteen, the new Stephanie Plum novel, all about and what brought you to the story?

Evanovich: I wanted to do a book that featured Stephanie's wheelman, Lula. Lula is one of my favorite characters because she's pulled herself up from hard times and now is just more of everything. Fifteen opens with Lula witnessing a crime, and it all gets complicated after that. We're talking about barbecue gone bad, cross-dressing firemen, dancing hot dogs, etc.

Connelly: You strike me as an author who is involved in every aspect of the publishing of her work. But the output—at least two solid novels a year—suggests otherwise, that you delegate all over the place so that you can focus on writing high-quality stuff. So which is it? (And if your answer is that you do indeed delegate, how the heck do you learn to do that?)

Evanovich: You reach a point in your career where the business side threatens to eclipse writing time and you either delegate or power back. I delegate everything but the writing. My daughter and her staff manage the website, the fan mail, the book tour, the author publicity and marketing. My son is my agent and finance officer and chief problem solver. When no one else can solve the problem it gets dumped on my son's desk! I oversee all aspects, but I've had to learn not to micro-manage.

Connelly: We have an author friend in common— Robert Crais—who has steadfastly refused to sell or option his series character Elvis Cole to Hollywood. On the other hand, I've flogged Harry Bosch up and down the studio strip. (Interestingly enough, to the same effect—no movies made!) Where do you stand with Stephanie and will we ever see her on the big or small screen?

Evanovich: Jeez Louise, I wish I knew the answer to this one. TriStar owns the Plum franchise with Wendy Finerman attached as producer, and Wendy has been trying to get this sucker off the ground for fifteen years. Probably somewhere in the vicinity of three million people read each of my Plum books, but for whatever reason, TriStar has yet to greenlight the project.

Connelly: Speaking of that L.A. business, do you remember when we first met? Since you conveniently put numbers in your titles, it is easy for me to remember that it was fourteen years ago in L.A. I bet you don't remember the name of the restaurant, which sadly is no longer there. But, luckily, we're still here and my memory of that lunch is important to me because at the time we had probably sold a hundred books between us (not counting romance novels).

Evanovich: What I remember is that what I consider to be my graduating class (you, Crais, and Jan Burke) would get together at all the mystery conferences, and you would be our fearless leader!

Connelly: Did you know that in my most recent novel a very bad man plans to use a Janet Evanovich novel to get close to an unsuspecting, potential victim? It's scary stuff—the plan, not the Evanovich novel. Have you reached a stage where your work is part of the terrain and gets these sorts of little nods here and there?

Evanovich: Every now and then my name or one of my character names pops up and it's usually in the work of a friend. I think it's fun and I always reciprocate...so live in fear.
Hot Stuff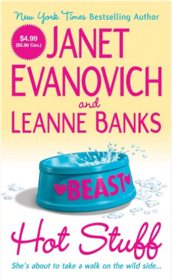 Janet Evanovich, Leanne Banks
Dear Reader,

If you like hot men, hot action and hot attraction you're going to love this HOT new series! HOT STUFF introduces Cate Madigan, a Boston native from a large and crazy Irish family. Cate has far too much going on to get involved in extracurricular activities, like men and marriage. She spends all day in school, earning her teaching degree, and all night working as a bartender in Boston's South End. Ex-cop Kellen McBride has decided to make Cate's bar his nightly haunt. He likes Cate's sassy Irish spirit and wild red hair. He also has an ulterior motive for getting close to her. Cate has sworn off all things romantic, but when she comes home to a ransacked apartment, a roommate who has flown the coop, and a sleeping bullmastiff named Beast, Cate has no choice but to ask Kellen for help. Can Kate resist the charming Kellen McBride while keeping herself out of danger? Or will Kellen turn up the heat on Cate and everything in her life?

We know you'll have a blast with HOT STUFF!

Janet & Leanne
Sizzling Sixteen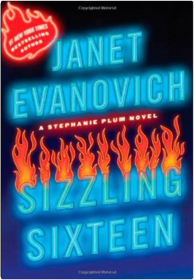 Janet Evanovich
Trenton, New Jersey, bounty hunter Stephanie Plum has inherited a "lucky" bottle from her Uncle Pip. Problem is, Uncle Pip didn't specify if the bottle brought good luck or bad luck. . . .

BAD LUCK:

Vinnie, of Vincent Plum Bail Bonds, has run up a gambling debt of $786,000 with mobster Bobby Sunflower and is being held until the cash can be produced. Nobody else will pay to get Vinnie back, leaving it up to Stephanie, office manager Connie, and file clerk Lula to raise the money if they want to save their jobs.

GOOD LUCK:

Being in the business of tracking down people, Stephanie, Lula, and Connie have an advantage in finding Vinnie. If they can rescue him, it will buy them some time to raise the cash.

BAD LUCK:

Finding a safe place to hide Vinnie turns out to be harder than raising $786,000. Vinnie's messing up Mooner's vibe, running up pay-per-view porn charges in Ranger's apartment, and making Stephanie question genetics.

GOOD LUCK:

Between a bonds office yard sale that has the entire Burg turning out, Mooner's Hobbit-Con charity event, and Uncle Pip's lucky bottle, they just might raise enough money to save the business, and Vinnie, from ruin.

BAD LUCK:

Saving Vincent Plum Bail Bonds means Stephanie can keep being a bounty hunter. In Trenton, this involves hunting down a man wanted for polygamy, a turnpike toilet paper bandit, and a drug dealer with a pet alligator named Mr. Jingles.

GOOD LUCK:

The job of bounty hunter comes with perks in the guise of Trenton's hottest cop, Joe Morelli, and the dark and dangerous security expert, Ranger. With any luck at all, Uncle Pip's lucky bottle will have Stephanie getting lucky—-the only question is . . . with whom?

Sizzling Sixteen . . . so hot, the pages might spontaneously combust!
Water for Elephants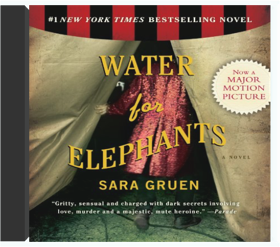 Sara Gruen
Nonagenarian Jacob Jankowski reflects back on his wild and wondrous days with a circus. It's the Depression Era and Jacob, finding himself parentless and penniless, joins the Benzini Brothers Most Spectacular Show on Earth. There he meets the freaks, grifters, and misfits that populate this world. He introduces us to Marlena, beautiful star of the equestrian act; to August, her charismatic but twisted husband (and the circus's animal trainer); and to Rosie, the seemingly untrainable elephant Jacob cares for. Beautifully written, with a luminous sense of time and place, Water for Elephants tells of love in a world in which love's a luxury few can afford.
Inside of a Dog: What Dogs See, Smell, and Know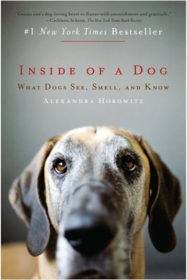 Alexandra Horowitz
The bestselling book that asks what dogs know and how they think, now in paperback.The answers will surprise and delight you as Alexandra Horowitz, a cognitive scientist, explains how dogs perceive their daily worlds, each other, and that other quirky animal, the human. Horowitz introduces the reader to dogs' perceptual and cognitive abilities and then draws a picture of what it might be like to be a dog. What's it like to be able to smell not just every bit of open food in the house but also to smell sadness in humans, or even the passage of time? How does a tiny dog manage to play successfully with a Great Dane? What is it like to hear the bodily vibrations of insects or the hum of a fluorescent light? Why must a person on a bicycle be chased? What's it like to use your mouth as a hand? In short, what is it like for a dog to experience life from two feet off the ground, amidst the smells of the sidewalk, gazing at our ankles or knees?

Inside of a Dog explains these things and much more. The answers can be surprising—once we set aside our natural inclination to anthropomorphize dogs. Inside of a Dog also contains up-to-the-minute research—on dogs' detection of disease, the secrets of their tails, and their skill at reading our attention—that Horowitz puts into useful context. Although not a formal training guide, Inside of a Dog has practical application for dog lovers interested in understanding why their dogs do what they do. With a light touch and the weight of science behind her, Alexandra Horowitz examines the animal we think we know best but may actually understand the least. This book is as close as you can get to knowing about dogs without being a dog yourself.
A Big Little Life: A Memoir of a Joyful Dog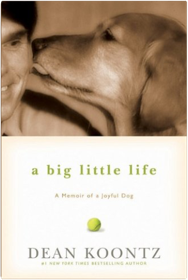 Dean Koontz
"In each little life we can see great truth and beauty, and in each little life we glimpse the way of all things in the universe."

DEAN KOONTZ thought he had everything he needed. A successful novelist with more than twenty #1 New York Times bestsellers to his credit, Dean had forged a career out of industry and imagination. He had been married to his high school sweetheart, Gerda, since the age of twenty, and together they had made a happy life for themselves in their Southern California home. It was the picture of peace and contentment. Then along came Trixie.

Dean had always wanted a dog—had even written several books in which dogs were featured. But not until Trixie was he truly open to the change that such a beautiful creature could bring about in him. Trixie had intelligence, a lack of vanity, and an uncanny knack for living in the present. And because she was joyful and direct as all dogs are, she put her heart into everything—from chasing tennis balls, to playing practical jokes, to protecting those she loved.

A retired service dog with Canine Companions for Independence, Trixie became an assistance dog of another kind. She taught Dean to trust his instincts, persuaded him to cut down to a fifty-hour work week, and, perhaps most important, renewed in him a sense of wonder that will remain with him for the rest of his life. She mended him in many ways.

Trixie weighed only sixty-something pounds, Dean occasionally called her Short Stuff, and she lived less than twelve years. In this big world, she was a little thing, but in all the ways that mattered, including the effect she had on those who loved her, she lived a big life.
The God of Animals: A Novel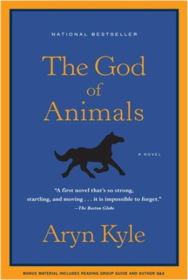 Aryn Kyle
The Significant Seven Spotlight Title, March 2007: Aryn Kyle's haunting coming-of-age novel is the kind of book that you want to share with everyone you know. Twelve-year-old Alice Winston is growing up fast on her father's run-down horse ranch—coping with the death of a classmate and the absence of her older sister (who ran off with a rodeo cowboy), trying to understand her depressed and bedridden mother, and attempting to earn the love and admiration of her reticent, weary father. Lyrical, powerful, and unforgettable, The God of Animals is our must-read, must-own, must-share book for March. —Daphne Durham

Amazon.com
With the sure hand of a seasoned writer, Aryn Kyle has crafted a brilliant debut with her novel, The God of Animals. Alice Winston, living on the family horse ranch, a marginal enterprise in Desert Valley, Colorado, is a 12-year-old girl with more than she can handle and no one to help her cope. Polly, a classmate of hers, drowned in the nearby canal and was carried out by Alice's father, Joe, a member of the volunteer posse. Her older sister, 16-year-old Nona, eloped with a rodeo cowboy. Her mother never leaves her bedroom, a case of clinical depression. "My mother had spent nearly my whole life in her bedroom... Nona said that one day, while I was still a baby, our mother had handed me to her, said she was tired, and gone upstairs to rest. She never came back down."

Joe has little time for Alice, other than counting on her to muck out the stalls and be polite to the paying customers. He doesn't even notice that she has outgrown her clothes. What Kyle does with this scenario is never predictable or clichéd. She writes beautifully of landscapes, interior and exterior, ravaged by extremes: the hottest summer in years, followed by a deluge; a lonely, isolated girl reaching out to a teacher, Mr. Delmar, equally alienated.

Alice starts telling lies, weaving bits and pieces of other people's lives into the tales she tells the teacher. What we eventually find out about her family is more poignant and tragic than anything she can make up. Horse lore is a large part of what explains each of the people in the novel: separating mares from their foals, the way a stud is treated, breaking a horse, ordinary everyday contact. This bond is explored in depth and each person: Alice, Nona, Joe, Joe's father, Alice's mother, is affected by this closeness in a different, unique way, revelatory of each individual's character. Much more than a coming-of-age tale, Kyle told a story of compromises and dreams that will never come true. —Valerie Ryan

10 Second Interview: A Few Words with Aryn Kyle

Q: In 2004, your short story "Foaling Season," the first chapter of The God of Animals, won a National Magazine Award for Fiction for The Atlantic Monthly. Did you have the idea for your book at the time you wrote the short story, or did the novel develop over time?
A: Three years passed between the time that I finished the short story and the time I returned to expand it into a novel. I was always interested in the characters and in the town which the story takes place, but after the story was published, I assumed I was done with them. In the aftermath of graduate school and a failed attempt at another novel, I found myself living back in my hometown of Grand Junction, Colorado, the town that Desert Valley is loosely based upon. More and more, I caught myself thinking about Alice again. I was interested in how the town had changed over the years, in the way that a tide of money and commercial culture was displacing the old families and the old ways. But mostly, I was interested in Alice's family, and in Alice's struggle to make a place for herself in a world that seems to have no place for her. The short story ended before she could really make any headway. I became curious as to where she might go and who she might become if the events of the story continued into the wider space of a novel. The story of The God of Animals starts with Chapter One, but I've always felt that the novel really starts with the second chapter.

Q: How much of your adolescence and personal experience are incorporated into your novel? Like Alice, did you ride horses growing up in Colorado?
A: Lots? None? This is a tricky question to answer. As far as lifestyle and experience, my own adolescence could not have been more different from Alice's. I didn't grow up on a ranch; didn't have a sister; my mother got out of bed and went to work every day. But adolescence is adolescence. Like Alice, I certainly know about loneliness, about longing, about regret, and about the confusion of trying to live in the world without really understanding it. Though, if I were going to be perfectly honest, I would have to admit that these are all things I found myself working through in my twenties, rather than in my teens. I did take riding lessons when I was about Alice's age, and I competed in a few local horse shows. It was such a different world from the one I'd grown up in, and though I gave it up when I started high school, I guess it made a pretty big impression on me.

Q: How did you think of the title?
A: The title didn't come to me until I'd finished the book. I was starting to panic a bit, figuring that no one would be too interested in publishing a book called Novel, which is what I'd named the file on my computer. So I did the only thing I could think of—I frantically thumbed through the pages of the draft waiting for something to pop out at me. I reread the scene between Alice and Mr. Delmar where they discuss God and spirituality. Something about that scene seemed to encapsulate some of the greater themes of the novel, the uncertainty Alice has about the world, her desire to believe in something larger than herself, her fears regarding isolation and loneliness.

Q: Do you have another novel in the works?
A: Lately, I've been working mainly on short stories. It's kind of hard for me to spend so much time working on one project, then dive into another. I've needed the time to get Alice's voice out of my head before I commit to another novel. But I do have a second novel underway—I'm superstitious, though, and it seems like bad luck to talk about something while its still in the works. Mostly, my writing starts with the characters, with understanding their flaws and their desires. Plot, for me, seems to come later, after I know what my characters want, and what they're willing to sacrifice to get it.

Aryn Kyle's Favorite Coming-of-Age Novels

Housekeeping
That Night
Thumbsucker
Ghostworld
Atonement
See all 10 of Aryn Kyle's favorite coming-of-age novels (with commentary)
A Lion Among Men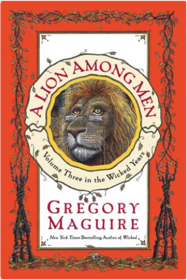 Gregory Maguire
Since the publication of Wicked, millions of readers have discovered Gregory Maguire's fantastically encyclopedic Oz, a world filled with characters both familiar and new, darkly conceived and daringly reimagined. In the third volume of the Wicked Years, we return to Oz, seen now through the eyes of the Cowardly Lion.

At once a portrait of a would-be survivor and a panoramic glimpse of a world gone shrill with war fever, Gregory Maguire's A Lion Among Men is written with the sympathy and power that have made his books contemporary classics.
Son of a Witch: Volume Two in the Wicked Years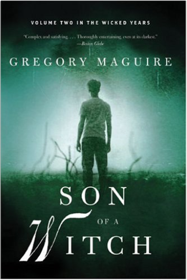 Gregory Maguire
In this captivating New York Times bestseller, beloved author Gregory Maguire returns to the land of Oz and introduces us to Liir, an adolescent boy last seen hiding in the shadows of the castle after Dorothy did in the Witch. Is he really Elphaba's son? He has her broom and her cape—but what of her powers? In an Oz that, since the Wizard's departure, is under new and dangerous management, can Liir keep his head down long enough to grow up?
Wicked: The Life and Times of the Wicked Witch of the West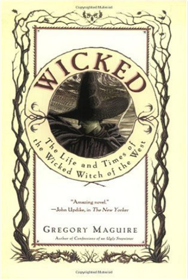 Gregory Maguire
When Dorothy triumphed over the Wicked Witch of the West in L. Frank Baum's classic tale, we heard only her side of the story. But what about her arch-nemesis, the mysterious witch? Where did she come from? How did she become so wicked? And what is the true nature of evil?

Gregory Maguire creates a fantasy world so rich and vivid that we will never look at Oz the same way again. Wicked is about a land where animals talk and strive to be treated like first-class citizens, Munchkinlanders seek the comfort of middle-class stability and the Tin Man becomes a victim of domestic violence. And then there is the little green-skinned girl named Elphaba, who will grow up to be the infamous Wicked Witch of the West, a smart, prickly and misunderstood creature who challenges all our preconceived notions about the nature of good and evil.
Zenzele: A Letter for My Daughter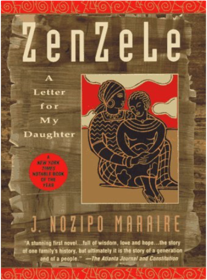 J. Nozipo Maraire
A mother in Zimbabwe writes a long letter to her daughter, who is on the way to America to study at Harvard, tracing the family's role in Zimbabwe's struggle for independence and what it means to be an African woman. Reprint.
Look Me in the Eye: My Life with Asperger's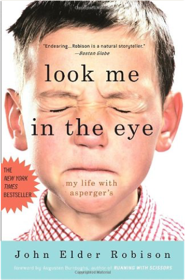 John Elder Robison
New York Times Bestseller

"As sweet and funny and sad and true and heartfelt a memoir as one could find."
—from the foreword by Augusten Burroughs

Ever since he was young, John Robison longed to connect with other people, but by the time he was a teenager, his odd habits—an inclination to blurt out non sequiturs, avoid eye contact, dismantle radios, and dig five-foot holes (and stick his younger brother, Augusten Burroughs, in them)—had earned him the label "social deviant." It was not until he was forty that he was diagnosed with a form of autism called Asperger's syndrome. That understanding transformed the way he saw himself—and the world. A born storyteller, Robison has written a moving, darkly funny memoir about a life that has taken him from developing exploding guitars for KISS to building a family of his own. It's a strange, sly, indelible account—sometimes alien yet always deeply human.
Precious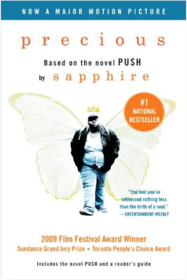 Sapphire
NOW A MAJOR MOTION PICTURE

Includes a Reading Group Guide

Precious Jones, an illiterate sixteen-year-old, has up until now been invisible to the father who rapes her and the mother who batters her and to the authorities who dismiss her as just one more of Harlem's casualties. But when Precious, pregnant with a second child by her father, meets a determined and radical teacher, we follow her on a journey of education and enlightenment as she learns not only how to write about her life, but how to make it truly her own for the first time.
The Reader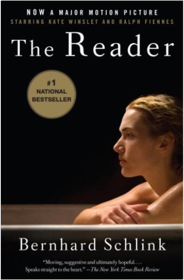 Bernhard Schlink
Oprah Book Club® Selection, February 1999: Originally published in Switzerland, and gracefully translated into English by Carol Brown Janeway, The Reader is a brief tale about sex, love, reading, and shame in postwar Germany. Michael Berg is 15 when he begins a long, obsessive affair with Hanna, an enigmatic older woman. He never learns very much about her, and when she disappears one day, he expects never to see her again. But, to his horror, he does. Hanna is a defendant in a trial related to Germany's Nazi past, and it soon becomes clear that she is guilty of an unspeakable crime. As Michael follows the trial, he struggles with an overwhelming question: What should his generation do with its knowledge of the Holocaust? "We should not believe we can comprehend the incomprehensible, we may not compare the incomparable.... Should we only fall silent in revulsion, shame, and guilt? To what purpose?"

The Reader, which won the Boston Book Review's Fisk Fiction Prize, wrestles with many more demons in its few, remarkably lucid pages. What does it mean to love those people—parents, grandparents, even lovers—who committed the worst atrocities the world has ever known? And is any atonement possible through literature? Schlink's prose is clean and pared down, stripped of unnecessary imagery, dialogue, and excess in any form. What remains is an austerely beautiful narrative of the attempt to breach the gap between Germany's pre- and postwar generations, between the guilty and the innocent, and between words and silence. —R. Ellis
Odd Girl Out, Revised and Updated: The Hidden Culture of Aggression in Girls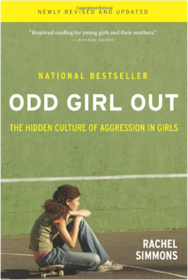 Rachel Simmons
REVISED AND UPDATED
WITH NEW MATERIAL ON CYBERBULLYING AND
HELPING GIRLS HANDLE THE DANGERS OF LIFE ONLINE

When Odd Girl Out was first published, it became an instant bestseller and ignited a long-overdue conversation about the hidden culture of female bullying. Today the dirty looks, taunting notes, and social exclusion that plague girls' friendships have gained new momentum in cyberspace.

In this updated edition, educator and bullying expert Rachel Simmons gives girls, parents, and educators proven and innovative strategies for navigating social dynamics in person and online, as well as brand new classroom initiatives and step-by-step parental suggestions for dealing with conventional bullying. With up-to-the-minute research and real-life stories, Odd Girl Out continues to be the definitive resource on the most pressing social issues facing girls today.

READING GROUP GUIDE AND TEACHER'S GUIDE available at www.marinnerreadersguides.com
The Art of Raising a Puppy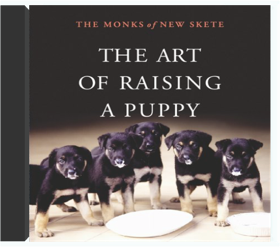 The Monks of New Skete
he Monks of New Skete have been involved in every facet of dog care for over 25 years: breeding and raising German Shepherds, training dogs of all breeds, and counseling dog owners on the many aspects of life with their dogs. What sets their program apart is the monks' compassion, respect, affection, and understanding of canine behavior and how they incorporate that into their training.

In The Art of Raising a Puppy—over 250,000 books sold since 1991—the brothers tell you everything you need to know about the crucial first months with your new best friend. From the decision to adopt a pup through the process of finding a dog breeder, preparing for your pup's arrival, succeeding at house-training and preliminary obedience exercises, and building the foundations of training, they offer clear guidelines for raising a puppy and establishing a lasting, loving relationship. This is an essential source of wisdom, information, and inspiration for anyone who has a puppy or is considering bringing one home.
The Miracle at Speedy Motors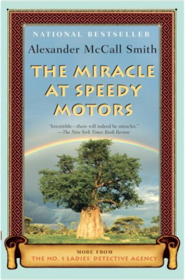 Alexander McCall Smith
In the latest installment of the universally beloved, bestselling series, Mma Ramotswe discovers the biggest miracles in life are often the smallest.

Under the endless skies of Botswana, there is always something Mma Ramotswe can do to help someone and here she finds herself assisting a woman looking for her family. The problem is the woman doesn't know her real name or whether any of her family members are still alive. Meanwhile, Mma Makutsi is the recipient of a beautiful new bed that causes more than a few sleepless nights. And, at Tlokweng Road Speedy Motors, Mr. J.L.B. Matekoni has come under the influence of a doctor promising a miracle cure for his daughter's medical condition, which Mma Ramotswe finds hard to accept. Nonetheless, Precious Ramotswe handles these things in her usual compassionate and good-natured way, while always finding time for a cup of red bush tea.

www.alexandermccallsmith.com
The Help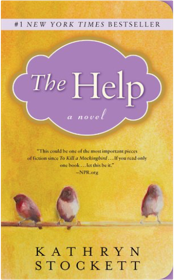 Kathryn Stockett
Aibileen is a black maid in 1962 Jackson, Mississippi, who's always taken orders quietly, but lately she's unable to hold her bitterness back. Her friend Minny has never held her tongue but now must somehow keep secrets about her employer that leave her speechless. White socialite Skeeter just graduated college. She's full of ambition, but without a husband, she's considered a failure. Together, these seemingly different women join together to write a tell-all book about work as a black maid in the South, that could forever alter their destinies and the life of a small town...
Briar Rose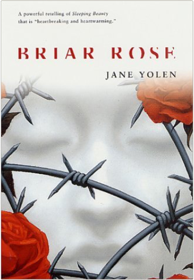 Jane Yolen
A powerful retelling of Sleeping Beauty that is "heartbreaking and heartwarming."

An American Library Association "100 Best Books for Teens"
An American Library Association "Best Books for Young Adults"

Ever since she was a child, Rebecca has been enchanted by her grandmother Gemma's stories about Briar Rose. But a promise Rebecca makes to her dying grandmother will lead her on a remarkable journey to uncover the truth of Gemma's astonishing claim: I am Briar Rose. A journey that will lead her to unspeakable brutality and horror. But also to redemption and hope.