Alvin and the Chipmunks: Chipwrecked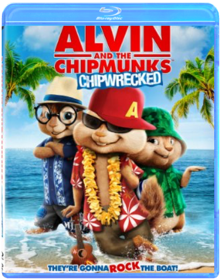 Mike Mitchell
In the third entry in the popular live-action/animated series, Alvin, Simon, Theodore, their guardian Dave (Jason Lee), old foe Ian (David Cross), and Chipettes Brittany, Jeanette, and Eleanor wind up marooned on a tropical island. Their adventure includes an encounter with a mysterious castaway named Zoe (Jenny Slate), a dangerous volcano, a buried treasure, and a spider bite that brings about an odd change in Simon. Also features the voices of Justin Long, Anna Faris, Amy Poehler, and Christina Applegate. 88 min. Widescreen; Soundtracks: English DTS HD 5.1 Master Audio, French Dolby Digital 5.1, Spanish Dolby Digital 5.1; Subtitles: English, French, Spanish; featurettes; extended scenes; sing-along songs; bonus digital copy; more. Also includes a DVD version of the film. Two-disc set.
Alvin and the Chipmunks: The Squeakquel [Blu-ray]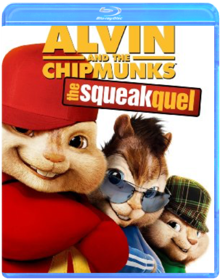 Betty Thomas
Studio: Tcfhe Release Date: 03/30/2010 Run time: 89 minutes Rating: Pg
Arrival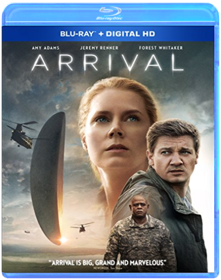 When mysterious spacecrafts touch down across the globe, an elite team - led by expert codebreaker Louise Banks (Amy Adams) - is brought together to investigate.  As mankind teeters on the verge of global war, Banks and the team race against time for answers – and to find them, she will take a chance that could threaten her life, and quite possibly humanity.
Big Hero 6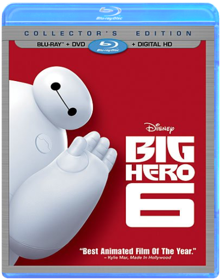 Chris Williams Don Hall
With all the heart and humor audiences expect from Walt Disney Animation Studios, BIG HERO 6 is an action-packed comedy adventure that introduces Baymax, a lovable, personal companion robot, who forms a special bond with robotics prodigy Hiro Hamada. When a devastating turn of events catapults them into the midst of a dangerous plot unfolding in the streets of San Fransokyo, Hiro turns to Baymax and his diverse group of friends — adrenaline junky Go Go Tomago, neatnik Wasabi, chemistry whiz Honey Lemon and fanboy Fred — who transform into a band of unlikely heroes. Bring home Disney's BIG HERO 6, featuring comic-book-style action and hilarious, unforgettable characters — it's fun for the whole family!
The Blind Side [Blu-ray DVD]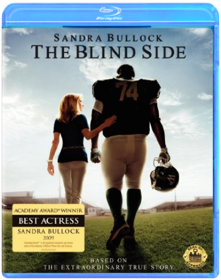 John Lee Hancock
Michael Oher (Quinton Aaron) knows little about family. Less about football. What the homeless teen knows are the streets and projects of Memphis. Well-to-do Leigh Anne Tuohy (Sandra Bullock) knows little about his world. Yet when she and Michael meet, he's found a home. And the Tuohys have found something just as life-changing: a beloved new son and brother. This real-life story of family and of Michael's growth into a blue-chip football star will have you cheering with its mix of gridiron action and heartwarming emotion. Share the remarkable journey of the college All-American and first-round NFL draft pick who was a winner before he ever stepped onto the playing field.
Bolt (Three-Disc Edition w/ Standard DVD + Digital Copy + BD Live) [Blu-ray]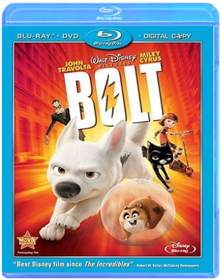 Chris Williams, Byron Howard
Bolt (voiced by John Travolta) is the star of the biggest show in Hollywood. The only problem is, he thinks the whole thing is real. When the super dog is accidentally shipped to New York City and separated from Penny (voiced by Miley Cyrus), his beloved co-star and owner, Bolt springs into action to find his way home. Together with his hilarious new sidekicks  Rhino (voiced by Mark Walton) – Bolt's #1 Fan – and a street-smart cat named Mittens (voiced by Susie Essman), Bolt sets off on an amazing journey where he discovers he doesn't need super powers to be a hero.

Bonus Features:
All-New Exclusive Super Rhino Short
Deleted Scenes
A New Breed Of Director: A Filmmaker's Journey
Act, Speak! The Voices Of Bolt
Creating The World Of Bolt
Miley Cyrus And John Travolta Sing The Song I Thought I Lost You In Studio
Bolt's Be-Awesome Mission Game
DisneyFile Digital Copy
Disney BD-Live
The Bourne Legacy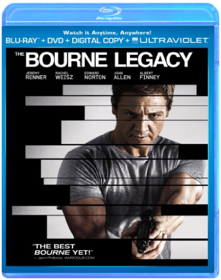 Tony Gilroy
The Bourne Legacy takes the action-packed Bourne series to an explosive new level. On the verge of having their conspiracy exposed, members of the government's intelligence community will stop at nothing to erase all evidence of their top secret programs - even the agents involved. Aaron Cross (Jeremy Renner) must use his genetically-engineered skills to survive the ultimate game of cat-and-mouse and finish what Jason Bourne started. Also starring Academy Award winner Rachel Weisz and Academy Award nominee Edward Norton, critics are calling this a "thrilling, edge-of-your-seat heart-pounder" (Meg Porter Berns, WSVN-TV (FOX), Miami).
Bridesmaids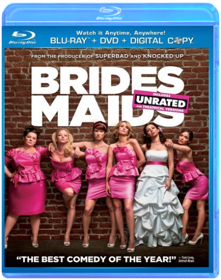 Thirty-something annie has hit a rough patch but finds her life turned completely upside down when she takes on the maid of honor role in her best friend lillians wedding. In way over her head but determined to succeed annie leads a hilarious hodgepod ge of bridesmaids a wild ride down the road to the big event. Studio: Uni Dist Corp. (mca) Release Date: 09/20/2011 Starring: Kristen Wiig Maya Rudolph Rating: R
Couples Retreat [Blu-ray]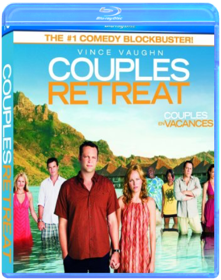 Vince Vaughn leads an all-star cast in the laugh-out-loud comedy about eight friends whose vacation in paradise is one they'll never forget. Their group-rate vacation comes at a price when they discover that participation in the resort's unconventional couples therapy activities is anything but optional. Co-starring Jason Bateman, Jon Favreau, Faizon Love, Kristin Davis, Kristen Bell and Malin Akerman, Couples Retreat is a hilarious party in paradise, loaded with laughter and fun!
The Dark Knight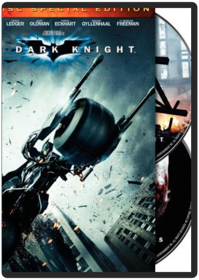 SPECIAL EDITION INCLUDES THE DIGITAL COPY
Dark Shadows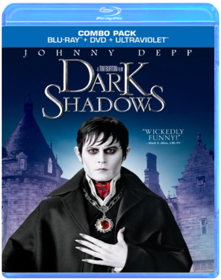 Tim Burton
From the wonderfully warped imagination of Tim Burton comes the story of Barnabas Collins (Johnny Depp), a dashing aristocrat who is turned into a vampire by a jilted lover and entombed for two centuries. Emerging from his coffin into the world of 1972, he returns to his once-majestic home, only to the few dysfunctional descendants of the Collins family who remain. Determined to return his family name to its former glory, Barnabas is thwarted at every turn by his former lover - the seductive witch Angelique (Eva Green) - in this wildly imaginative" (Sam Hallenbeck, NBC-TV adventure).
Deadpool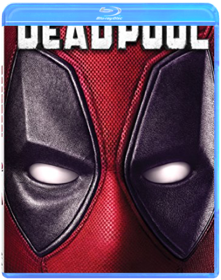 Tim Miller
Hold onto your chimichangas, folks. From the studio that brought you all 3 Taken films comes DEADPOOL, the block-busting, fourth-wall-breaking masterpiece about Marvel Comics sexiest anti-hero: me! Go deep inside (I love that) my origin story...typical stuff...rogue experiment, accelerated healing powers, horrible disfigurement, red spandex, imminent revenge. Directed by overpaid tool Tim Miller, and starring God s perfect idiot Ryan Reynolds, Ed Skrein, Morena Baccarin, T. J. Miller and Gina Carano, DEADPOOL is a giddy slice of awesomeness packed with more twists than my enemies intestines and more action than prom night. Amazeballs!

Bonus Features:
Disc 1: Theatrical Feature Blu-ray

**Deleted/Extended Scenes with Optional Audio Commentary by Director Tim Miller
**Gag Reel
**From Comics to Screen...to Screen
**Gallery (Concept Art, Costumes, Storyboards, Pre-vis, Stunt-vis)
**Deadpool s Fun Sack
**Audio Commentary by Ryan Reynolds and Screenwriters Rhett Reese & Paul Wernick
**Audio Commentary by Director Tim Miller and Deadpool Co-Creator/Comics Artist Rob Liefeld

Disc 2: Theatrical Feature DVD

**Gag Reel
**Deadpool s Fun Sack

Digital HD
Despicable Me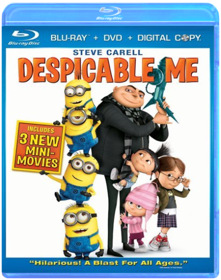 Pierre Coffin and Chris Renaud
"**** This Year's COOLEST Animated Comedy!" – Jeff Craig, Sixty Second Preview

Get ready for a minion laughs in the funniest blockbuster hit of the year!

Vying for the title of "World's Greatest Villain", Gru (voiced by Steve Carell) – along with his hilarious crew of mischievous minions – plots to pull off the craziest crime of the century: steal the moon! But when Gru enlists the help of three little girls, they see something in him nobody else has ever seen: the perfect dad. From executive producer Chris Meledandri (Horton Hears a Who, Ice Age), and featuring the voices of an all-star comedic cast, including Jason Segel, Russell Brand, Miranda Cosgrove and Julie Andrews, Despicable Me is "rousingly funny, heartfelt and imaginative" (Pete Hammond, Boxoffice Magazine).
Despicable Me 2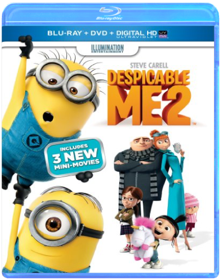 Gregory Perler, Chris Renaud, Pierre Coffin
Gru, his adorable girls, and the mischievous Minions are back with a cast of unforgettable new characters in the blockbuster sequel to the worldwide phenomenon. Just as Gru has given up being super-bad to be a super-dad, the Anti-Villain League recruits him to track down a new criminal mastermind and save the world. Partnered with secret agent Lucy Wilde, Gru, along with the wildly unpredictable Minions, must figure out how to keep his cover while also keeping up with his duties as a father. Assemble the Minions for laugh-out-loud comedy in "one of the funniest, most enjoyable movies ever!" (MovieGuide)
Dirty Grandpa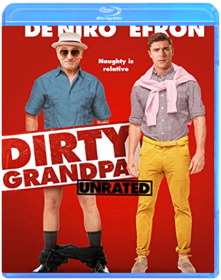 Dan Mazer
Robert De Niro and Zac Efron get down and dirtier in this unrated version of the raunchy comedy about a wild road trip shared by an uptight guy and his foul-mouthed granddad.
Ender's Game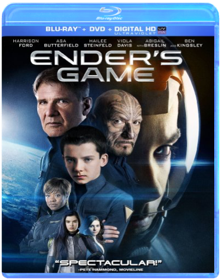 Gavin Hood
In the near future, a hostile alien race has attacked Earth. If not for the legendary heroics of International Fleet Commander Mazer Rackham (Ben Kingsley), all would have been lost. In preparation for the next attack, the highly esteemed Colonel Hyrum Graff (Harrison Ford) and the International Military are training the best and brightest young children to find the future Mazer. Ender Wiggin (Asa Butterfield), a shy, but strategically brilliant boy is pulled out of his school to join the elite.
Escape Plan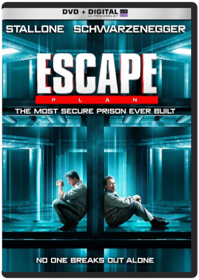 Mickael Hafstrom
The Expendables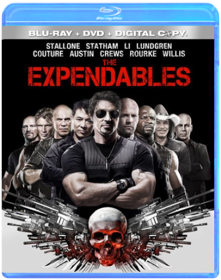 Sylvester Stallone
Sylvester Stallone stars as Barney Ross, leader of The Expendables, a tight-knit team of skilled combat vets turned mercenaries. Hired by a powerful covert operator, the team jets off to a small South American country to overthrow a ruthless dictator. Once there, they find themselves caught in a deadly web of deceit and betrayal. Using every weapon at their disposal, they set out to save the innocent and punish the guilty in this blistering action-packed thriller.
Fast & Furious (2-Disc Special Edition) [Blu-ray]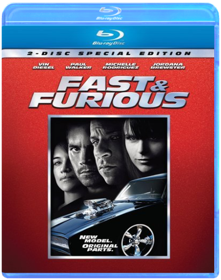 Justin Lin
Vin Diesel and Paul Walker reteam with Michelle Rodriguez and Jordana Brewster for the ultimate chapter of the franchise built on speed! From big rig heists to precision tunnel crawls, Fast & Furious takes you back into the high-octane world to race through crowded city streets and across international lines!
Fast & Furious 6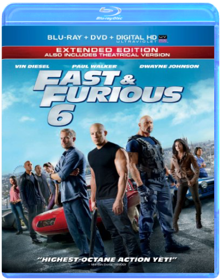 Justin Lin
Vin Diesel, Paul Walker, Dwayne Johnson and Michelle Rodriguez lead a cast of returning all-stars as the global blockbuster franchise built on speed delivers the biggest adrenaline rush yet. Hobbs (Johnson) has been tracking an organization of lethally skilled drivers, whose mastermind (Luke Evans) is aided by the love Dom (Diesel) thought was dead, Letty (Rodriguez). The only way to stop the criminal mercenaries from stealing a top secret weapon is to outmatch them at street level, so Hobbs asks for the help of Dom and his elite team. Payment for the ultimate chase? Full pardons for all of them and a chance to make their families whole again.
Fast Five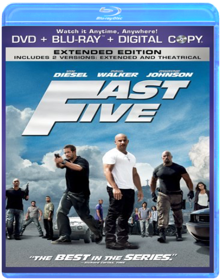 Justin Lin
Get ready for "five times the action, excitement and fun" (Shawn Edwards, FOX-TV) as Vin Diesel and Paul Walker lead a reunion of all-stars from every chapter of the explosive franchise built on speed. Fugitive Dom Toretto (Diesel) partners with former cop Brian O'Conner (Walker) on the opposite side of the law in exotic Rio de Janeiro, Brazil. There they are hunted by a high-powered U.S. strike force led by its toughest Fed (Dwayne Johnson) and an army of corrupt cops working for a ruthless drug kingpin. To gain their freedom and win this ultimate high-stakes race, they must pull off one last job - an insane heist worth $100 million.
Frozen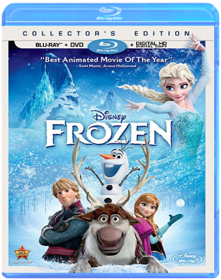 Chris Buck, Jennifer Lee
Fearless optimist Anna teams up with Kristoff in an epic journey, encountering Everest-like conditions, and a hilarious snowman named Olaf in a race to find Anna's sister Elsa, whose icy powers have trapped the kingdom in eternal winter.
Gran Torino (Amazon Digital Bundle + Digital Copy and BD-Live) [Blu-ray]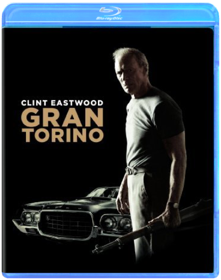 Clint Eastwood
Studio: Warner Home Video Release Date: 06/09/2009 Run time: 116 minutes Rating: R
Harry Potter and the Deathly Hallows, Part 1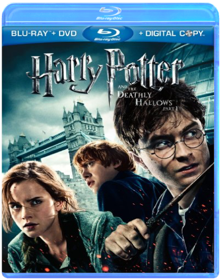 David Yates
Harry, Ron and Hermione set out on their perilous mission to track down and destroy the secret to Voldemort's immortality and destruction – the Horcruxes. On their own and on the run, the three friends must now rely on one another more than ever…but Dark Forces in their midst threaten to tear them apart. Meanwhile the wizarding world has become a dangerous place. The long-feared war has begun and the Dark Lord has seized control of the Ministry of Magic and even Hogwarts, terrorizing and arresting all who might oppose him. The Chosen One has become the hunted one as the Death Eaters search for Harry with orders to bring him to Voldemort…alive.
Harry Potter and the Deathly Hallows, Part 2 (Movie-Only Edition + UltraViolet Digital Copy) [Blu-ray]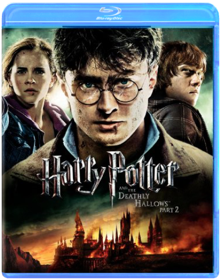 David Yates
In the epic finale, the battle between the good and evil forces of the wizarding world escalates into an all-out war. The stakes have never been higher and no one is safe. But it is Harry who may be called upon to make the ultimate sacrifice as he draws closer to the climactic showdown with Lord Voldemort. It all ends here.
Harry Potter and the Half-Blood Prince (+ BD-Live) [Blu-ray]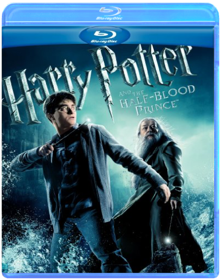 David Yates
Voldemort is tightening his grip on both the Muggle and wizarding worlds and Hogwarts is no longer the safe haven it once was. Harry suspects that dangers may even lie within the castle, but Dumbledore is more intent upon preparing him for the final battle that he knows is fast approaching. Together they work to find the key to unlock Voldemort's defenses and, to this end, Dumbledore recruits his old friend and colleague, Professor Horace Slughorn, whom he believes holds crucial information. Even as the decisive showdown looms, romance blossoms for Harry, Ron, Hermione and their classmates. Love is in the air, but danger lies ahead and Hogwarts may never be the same.

The Blu-ray disc of Harry Potter and the Half-Blood Prince will feature Warner Bros. Maximum Movie Mode, an interactive viewing experience that examines the entire film with such features as Focus Points, Picture-in-Picture, photo galleries and more. Maximum Movie Mode includes commentary from director David Yates, producers David Heyman and David Barron, and stars Daniel Radcliffe, Rupert Grint, Emma Watson and Tom Felton.

The disc also includes Warner Bros. BD-LiveTM, which allows users with web-enabled Blu-ray players to access exciting additional content and connect and share with other BD-Live users via the My Commentary and Live Community Screening features. Another feature of the BD-Live interactivity is Facebook Connect, which allows users to interact with their friends from Facebook, update their Facebook status while in BD-Live and invite their Facebook friends to a Live Community Screening.
The Heat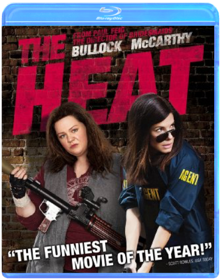 Paul Feig
Oscarr Winner Sandra Bullock* and Oscarr Nominee Melissa McCarthy** team up in this outrageously funny comedy from the director of Bridesmaids, Paul Feig. Uptight FBI Special Agent Sarah Ashburn (Bullock) and foul-mouthed Boston cop Shannon Mullins (McCarthy) couldn't be more incompatible. But when they join forces to bring down a ruthless drug lord, they become the last thing anyone expected...buddies.
Hidden Figures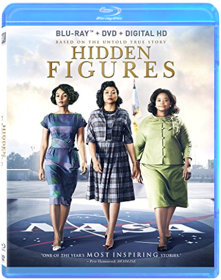 Hidden Figures [Blu-ray] [Blu-ray] [2017] ...
The Hobbit: The Desolation of Smaug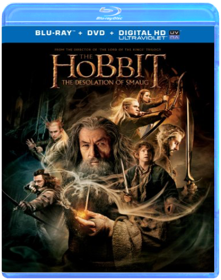 Peter Jackson
Horrible Bosses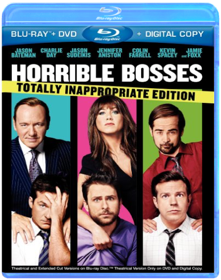 Seth Gordon
For Nick (Jason Bateman), Kurt (Jason Sudeikis) and Dale (Charlie Day), the only thing that would make the daily grind more tolerable would be to grind their intolerable bosses into dust. Quitting is not an option, so, with the benefit of a few too many drinks and some dubious advice from a hustling ex-con, the three friends devise a convoluted and seemingly foolproof plan to rid themselves of their respective employers...permanently. There's only one problem: even the best-laid plans are only as foolproof as the brains behind them.
Hugo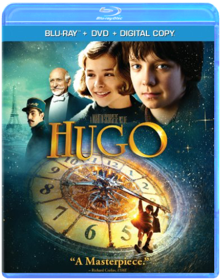 Martin Scorsese
Welcome to a magical world of spectacular adventure! When wily and resourceful Hugo discovers a secret left by his father, he unlocks a mystery and embarks on a quest that will transform those around him and lead to a safe and loving place he can call home. Academy Award®-winning filmmaker Martin Scorsese invites you to experience a thrilling journey that critics are calling "the stuff that dreams are made of." *Peter Travers, Rolling Stone
The Hunger Games [2-Disc Blu-ray + Ultra-Violet Digital Copy]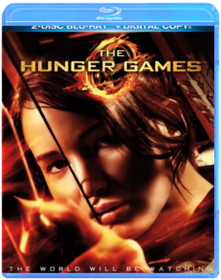 Gary Ross
Every year in the ruins of what was once North America, the Capitol of the nation of Panem forces each of its twelve districts to send a teenage boy and girl to compete in the Hunger Games. Sixteen-year-old Katniss Everdeen volunteers in her younger sister's place and must rely upon her sharp instincts when she's pitted against highly trained Tributes who have prepared their entire lives. If she's ever to return home to District 12, Katniss must make impossible choices in the arena that weigh survival against humanity and life against love.
The Hunger Games: Catching Fire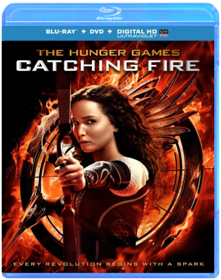 Francis Lawrence
Katniss Everdeen and Peeta Mellark become targets of the Capitol after their victory in the 74th Hunger Games sparks a rebellion in the Districts of Panem.
Identity Thief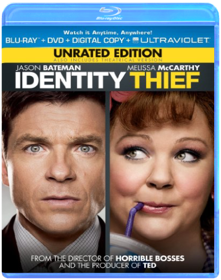 Seth Gordon
Jason Bateman (Horrible Bosses) and Melissa McCarthy (Bridesmaids) lead an all-star cast in this hilarious blockbuster hit. Unlimited funds have allowed Diana (McCarthy) to live it up on the outskirts of Orlando. There's only one glitch: she's financing her shopping sprees with an ID stolen from Sandy Patterson (Bateman), an accounts rep who lives halfway across the U.S. With only one week to hunt down the con artist before his world implodes, the real Sandy Patterson is forced to extreme measures to clear his name. From the director of Horrible Bosses and the producer of Ted, critics are calling Identity Thief "smart, funny and surprisingly touching" - Rafer Guzman, Newsday.
Iron Man 2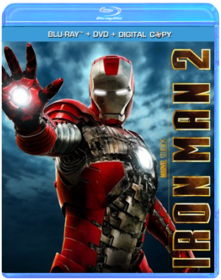 Jon Favreau
Get the ultimate Iron Man 2 experience with this special edition loaded with bonus features that take you inside the suit, plus a digital copy of the film that you can watch anywhere, anytime! Now that Tony Stark's superhero secret is revealed to the world, he must once again suit up in order to face his most dangerous enemy yet – but not without a few new allies of his own!
The Karate Kid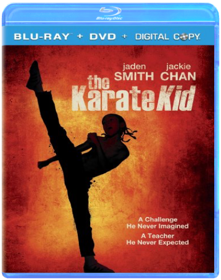 Harald Zwart
Studio: Sony Pictures Home Ent Release Date: 10/05/2010 Run time: 104 minutes Rating: R
Kingsman: The Secret Service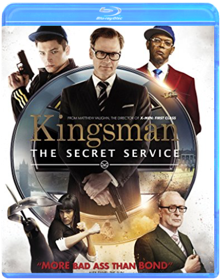 Matthew Vaughn
Kingsman: The Secret Service (Blu-ray + Digital Copy), kingsman, the secret service
The Last Airbender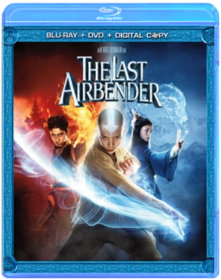 M. Night Shyamalan
Experience the thrilling live-action adventure based on the hit Nickelodeon series Avatar: The Last Airbender. Join Aang, an extraordinary boy with incredible "bending" powers, as he journeys through an exotic land filled with magical creatures and powerful friends. As the Avatar, he is the only one who can end the age-old conflict between the four nations: Air, Water, Earth and Fire. An inspirational journey, The Last Airbender is exciting entertainment for the entire family!
Maleficent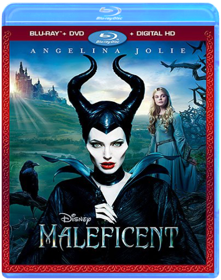 Robert Stromberg
Explore the untold story of Disney's most iconic villain in this wickedly fun twist on the classic SLEEPING BEAUTY. In an unforgiving mood after a neighboring kingdom threatens her forest, Maleficent (Angelina Jolie) places an irrevocable curse on the king's newborn daughter, the Princess Aurora. but as the child grows, Maleficent finds herself becoming fond of the girl. And as the conflict between the two realms intensifies, Maleficent realizes that Aurora may hold the key to peace in the land. Journey beyond the fairy tale in this soaring adventure that is "visually arresting, brilliantly designed" (Andrew Barker, Variety).
The Martian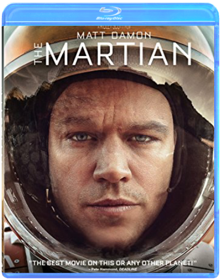 Men in Black 3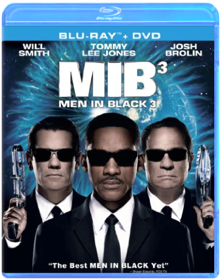 Barry Sonnenfeld
In Men in Black™ 3, Agents J (Will Smith) and K (Tommy Lee Jones) are back... in time. J has seen some inexplicable things in his 15 years with the Men in Black, but nothing, not even aliens, perplexes him as much as his wry, reticent partner. But when K's life and the fate of the planet are put at stake, Agent J will have to travel back in time to put things right. J discovers that there are secrets to the universe that K never told him — secrets that will reveal themselves as he teams up with the young Agent K (Josh Brolin) to save his partner, the agency, and the future of humankind.
Minions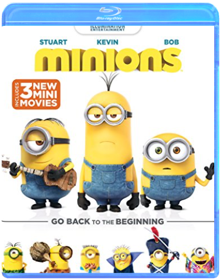 Pierre Coffin, Kyle Balda
The Minions, breakout stars from "Despicable Me," are presented in an origin story that showcases their unpredictable personality and physicality, and pairs them with equally memorable human characters. As it turns out, Minions have existed since the beginning of time. They have evolved from single (yellow) cell organisms into the familiar beings we know, and they live for a collective purpose: to seek out and serve the most despicable master they can find. Academy Award winner Sandra Bullock will lead the voice cast of the human characters as Scarlett Overkill, the world's reigning super-villain of the 1960s.
Monsters University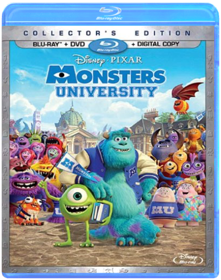 Dan Scanlon
Disney Pixar proudly presents the hilarious story of how two mismatched monsters met and became lifelong friends in a movie screaming with laughter and oozing with heart. Ever since college-bound Mike Wazowski (Billy Crystal) was a little monster, he's dreamed of becoming a Scarer—and he knows better than anyone that the best Scarers come from Monsters University (MU). But during his first semester at MU, Mike's plans are derailed when he crosses paths with hotshot James P. Sullivan, "Sulley" (John Goodman), a natural-born Scarer. The pair's out-of-control competitive spirit gets them both kicked out of the University's elite Scare Program. With their dreams temporarily dashed, they realize they will have to work together, along with an odd bunch of misfit monsters, if they ever hope to make things right. Get ready to party with hours of exclusive bonus extras, including an inside look at the world of monsters and the animated theatrical short film "The Blue Umbrella."
My Big Fat Greek Wedding 2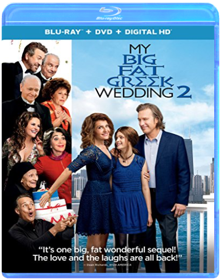 Kirk Jones
The Portokalos Family is back as the original cast of the 2002 blockbuster hit reunite in this hilarious sequel. This time, Nia Vardalos (Toula) and John Corbett (Ian) are joined by new cast members, Rita Wilson and John Stamos. After spending most of their time focusing on their troubling teenage daughter, Toula and Ian are facing marital problems while also having to deal with yet another Greek wedding - this time, even bigger and fatter.
Nebraska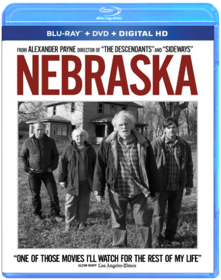 From Academy Awardr winner Alexander Payne, the director of Sideways and The Descendants, comes the film that critics are calling "An American Masterpiece." When a father (Bruce Dern) and his adult son (Will Forte) embark on a journey to claim a million-dollar prize, what begins as a fool's errand becomes a search for the road to redemption. Discover why Nebraska is "one of those movies I'll watch for the rest of my life."
Night at the Museum: Battle of the Smithsonian (Three-Disc Edition + Digital Copy + DVD) [Blu-ray]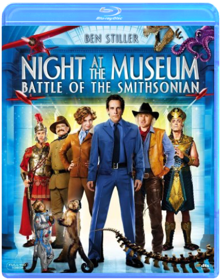 Shawn Levy
History is larger than life—and twice as funny—in this monumental comedy sequel that's "better than the original" (At the Movies)! Ben Stiller leads an all-star cast (including Amy Adams, Owen Wilson, Hank Azaria and Robin Williams) as Larry Daley, a former night watchman at the Museum of Natural History, where the exhibits come to life after dark. But now Larry's nocturnal friends are being retired to the archives of the Smithsonian Institution, luring him back for a hilarious, all-out battle against museum misfits who plan to take over the Smithsonian...and the world!
Now You See Me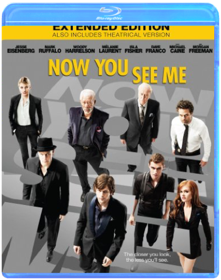 Louis Leterrier
In this visually spectacular blend of astonishing illusions and exhilarating action from director Louis Leterrier (Clash of the Titans), four talented magicians mesmerize an international audience with a series of bold and original heists, all the while pursuing a hidden agenda that has the FBI and Interpol scrambling to anticipate their next move.
One for the Money [Blu-ray]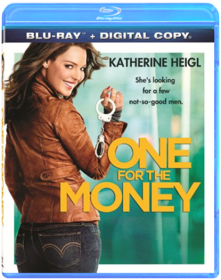 Julie Anne Robinson
Katherine Heigl stars as Stephanie Plum in this broad comedy, based on the best-selling novel from Janet Evanovich.

Detailed Synopsis
Stephanie Plum (Katherine Heigl) is a bright, attractive, confident woman whose entire life has just taken a sudden turn — in the wrong direction. Newly divorced and recently laid off, the only work she can scrape up is a dead-end job at her sleazy cousin's bail bond office. But when her first big assignment involves tracking down an on-the-lam ex-flame (Jason O'Mara), this tough-as-nails lady bounty hunter will be redefining the meaning of hot pursuit in this thrill-packed action comedy.
Pete's Dragon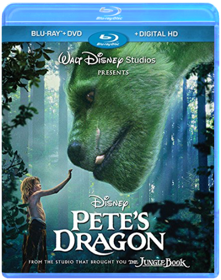 David Lowery
When a mysterious 10-year-old boy, Pete, turns up, claiming to live in the woods with a giant green dragon, it's up to a forest ranger, Grace, and young Natalie to learn where the boy came from, where he belongs, and the truth about this magical dragon.
Planet 51 (Disc Blu-ray/DVD Combo) [Blu-ray]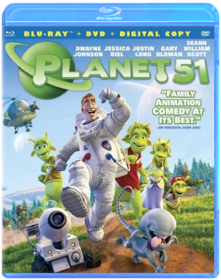 Jorge Blanco, Javier Abad, Marcos Martinez
When Chuck the astronaut (Dwayne Johnson) lands on a distant planet filled with little green people, he is surprised to discover that we are not alone in the galaxy. But he gets the shock of his life when the residents of Planet 51 mistakenly believe that his presence is the start of an alien invasion of the human kind! Luckily, Lem (Justin Long) quickly realizes that Chuck is friendly and makes it his personal mission to help him return safely to his ship.
Rango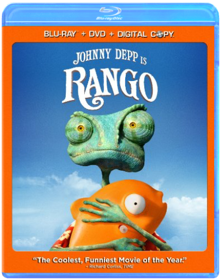 Gore Verbinski
Get ready to tango with RANGO, a winner with critics and audiences that's "like nothing you've ever seen before" (Peter Travers, Rolling Stone). Johnny Depp is spectacular as Rango, a kooky pet chameleon who gets tossed into a wild and raucous town in desperate need of a hero. Refreshingly original with eye-popping animation, RANGO is "loads of fun and genuinely funny" (Betsy Sharkey, Los Angeles Times). And now you can get more RANGO in the Blu-ray + DVD Combo Pack with Digital Copy featuring the never-before-seen ending, 10 deleted scenes and exclusive interactive Blu-ray features including picture-in-picture storyboards and an interactive field trip to Dirt, and so much more.
Saving Mr. Banks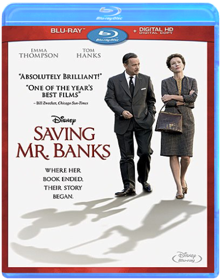 John Lee Hancock
Tom Hanks and Emma Thompson bring to life the untold true story about the origins of one of the most treasured Disney classics of all time. John Lee Hancock (The Blind Side) directs this acclaimed film that reveals the surprising backstory behind the making of Mary Poppins.

Determined to fulfill a promise to his daughters, Walt Disney (Hanks) tries for 20 years to obtain the rights to author P. L. Travers' (Thompson) beloved book. Armed with his iconic creative vision, Walt pulls out all the stops, but the uncompromising Travers won't budge. Only when he reaches into his own complicated childhood does Walt discover the truth about the ghosts that haunt Travers, and together, they set "Mary Poppins" free.
The Sorcerer's Apprentice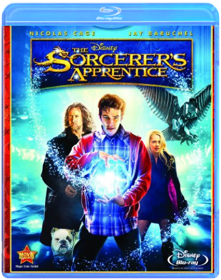 Jon Turteltaub
Magic is everywhere in Disney's The Sorcerer's Apprentice-the fun family adventure from the creators of National Treasure. Balthazar Blake (Nicolas Cage) is a modern-day sorcerer with his hands full defending Manhattan against dark forces. When a seemingly average kid shows hidden potential, Balthazar takes his reluctant recruit on a crash course in the art and science of magic to become the ultimate sorcerer's apprentice. Experience more extraordinary thrills, heart-stopping action and spectacular special effects than you can imagine as these unlikely partners show us that the real world is far more magical than we ever knew!
Star Trek (Three-Disc Edition) [Blu-ray]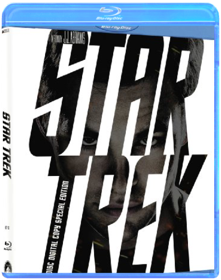 J.J. Abrams
The greatest adventure of all time begins with Star Trek, the incredible story of a young crew's maiden voyage onboard the most advanced starship ever created: the U.S.S. Enterprise. On a journey filled with action, comedy and cosmic peril, the new recruits must find a way to stop an evil being whose mission of vengeance threatens all of mankind. The fate of the galaxy rests in the hands of bitter rivals. One, James Kirk (Chris Pine), is a delinquent, thrill-seeking Iowa farm boy. The other, Spock (Zachary Quinto), was raised in a logic-based society that rejects all emotion. As fiery instinct clashes with calm reason, their unlikely but powerful partnership is the only thing capable of leading their crew through unimaginable danger, boldly going where no one has gone before.
Star Trek Into Darkness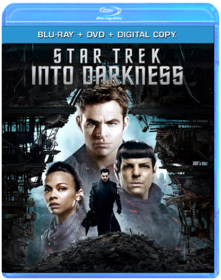 J.J. Abrams
When the crew of the Enterprise is called back home, they find an unstoppable force of terror from within their own organization has detonated the fleet and everything it stands for, leaving our world in a state of crisis. With a personal score to settle, Captain Kirk leads a manhunt to a war-zone world to capture a one man weapon of mass destruction. As our heroes are propelled into an epic chess game of life and death, love will be challenged, friendships will be torn apart, and sacrifices must be made for the only family Kirk has left: his crew
Star Wars: The Force Awakens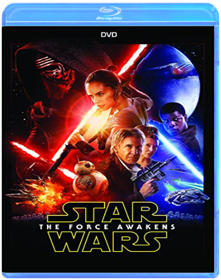 J.J. Abrams
Visionary director J.J. Abrams brings to life the motion picture event of a generation. As Kylo Ren and the sinister First Order rise from the ashes of the Empire, Luke Skywalker is missing when the galaxy needs him most. It's up to Rey, a desert scavenger, and Finn, a defecting stormtrooper, to join forces with Han Solo and Chewbacca in a desperate search for the one hope of restoring peace to the galaxy.
Tammy Extended Cut
Ben Falcone
Tammy: EXT&TH (Blu-ray + DVD + Digital HD UltraViolet Combo Pack)
Ted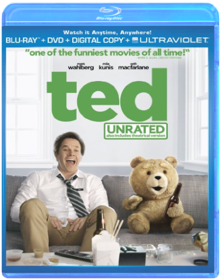 Seth MacFarlane
Family Guy creator Seth MacFarlane brings his boundary-pushing brand of humor to the big screen for the first time as writer, director and voice star of Ted. In the live action/CG-animated comedy, he tells the story of John Bennett (Mark Wahlberg), a grown man who must deal with the cherished teddy bear who came to life as the result of a childhood wish...and has refused to leave his side ever since.
The Jungle Book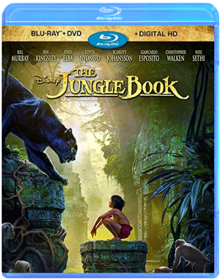 Jon Favreau
In an epic adventure directed by Jon Favreau (IRON MAN), Mowgli, a man-cub raised in the jungle by a family of wolves, embarks on a captivating journey of self-discovery when he's forced to abandon the only home he's ever known. Featuring an all-star voice cast including Bill Murray, Ben Kingsley and Scarlett Johansson, THE JUNGLE BOOK is "stunning" (Todd McCarthy, The Hollywood Reporter).
Thor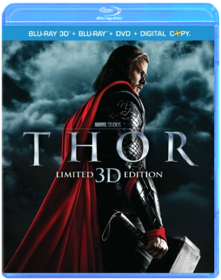 Joss Whedon, Kenneth Branagh
The powerful but arrogant warrior thor is cast out of the fantastic realm of asgard and sent to live amongst humans on earth where he soon becomes one of their finest defenders. Studio: Paramount Home Video Release Date: 09/13/2011 Starring: Chris Hemsworth Natalie Portman Run time: 114 minutes Rating: Pg13 Director: Kenneth Branagh
Tower Heist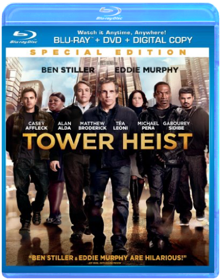 Brett Ratner
Studio: Uni Dist Corp. (mca) Release Date: 02/21/2012 Rating: Pg13
Toy Story 3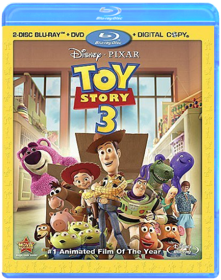 Lee Unkrich
The creative minds behind Disney Pixar's groundbreaking animated blockbusters invites you back inside the Toys' delightful world for a heartwarming and hilarious Hi-Definition movie experience you'll never forget. All the original voice talent returns (including Tom Hanks and Tim Allen) plus new talent including Michael Keaton as Ken and Ned Beatty as Lots-O'-Huggin' Bear. It's the biggest, best, most exciting Toy Story of them all, raves Access Hollywood.

As Andy gets ready to leave for college, Woody, Buzz, Jessie and the rest of the gang wonder if this is the end of the line. But, when a mix up lands them in the Sunnyside Day Care Center where they meet 14 new toys, they soon discover that a wild new adventure is just beginning! Take an amazing journey with some of the most beloved characters in movie history and discover what being a friend is truly all about.
It's everything a movie should be: hilarious, touching, exciting and clever, says USA Today. Buzzing with hours of exclusive bonus features, including an interactive trivia game and the Pixar short film Day and Night, Toy Story 3 goes to infinity and beyond on Blu-ray Hi-Def!

Meet the Characters Woody
Woody is a cowboy sheriff with a pull-string that, when pulled proclaims Woody's signature catchphrases from the 1950s TV show "Woody's Roundup." He's always been Andy's favorite toy. Even though his owner is now grown, the loyal sheriff Woody maintains a steadfast belief that Andy still cares about his toys. As the toys venture into their unknown future, Woody remains the voice of reason. As their dependable leader, he ensures that no toy gets left behind. Buzz Lightyear
Buzz Lightyear is a heroic space ranger action figure, complete with laser beam, karate-chop action and pop-out wings. Buzz is a boy's dream toy who becomes a quick favorite of young Andy, and the closest of buddies with Woody. While Buzz's sole mission used to be defeating the evil Emperor Zurg, what he now cares about most is keeping his toy family together. Buzz's new mission is sidetracked along the way, however, when his journey brings out surprising aspects of his personality even he didn't know existed. Jessie
Jessie is an exuberant, rough-and-tumble cowgirl doll who's always up for a daring adventure to help critters in need. With Andy's imminent departure hanging over the toys, Jessie is afraid of being abandoned by her owner once again. She takes charge, insisting that the toys take control of their own destinies. But is it a decision they'll later regret! Rex
Rex may look like the most fearsome dinosaur in the toy box, but this tyrannosaurus is one of the most lovable toys of the bunch. Despite his endless worrying and insecurities about his small roar, Rex always comes through for his pals. Hamm
A pink piggybank with a penchant for one-liners. He's still a know-it-all, or at least that's what he'd like everyone to believe. Mr. Potato Head
Mr. Potato Head is a wisecracking, hot-headed spud, complete with angry eyes. He's the eternal pessimist with a tough plastic exterior, but his total devotion to his little "sweet potato," Mrs. Potato Head, reveals a softer side.. Mrs. Potato Head
Mrs. Potato Head is Mr. Potato Head's biggest fan. She adores her brave spud and is always willing to lend him a hand. Or an eye. While Mr. Potato Head's "sweet potato" lives up to her pet name, she also shares her husband's hair-trigger temper. Bullseye
Bullseye is Woody's trusty toy steed from the "Woody's Roundup" gang. Bullseye can ride like the wind and leap across giant canyons in a single bound, especially when Woody is in the saddle. Big Baby
Your little one with love this lifelike baby doll with his soft, cuddly fabric body and vinyl arms, legs, and face. With dazzling blue eyes that open and close, this realistic baby encourages nurturing play. Eighteen inches tall, he comes dressed in an adorable yellow onesie with matching bonnet, and has his own magical bottle of milk that disappears while he drinks! A perfect first doll for your special child. Machine washable on gentle cycle. Flame Retardant. Chatter Telephone
Ring-ring! The Fisher-Price Chatter Telephone is a classic pull toy that has been inspiring giggles for many generations, while building motor skills and balance. Preschoolers can't resist the friendly face with eyes that move up and down when they pull the toy along, and the bright colors and pleasing sounds keep them happy and engaged. Chatter Telephone is ideal for the little hands in your life. Mr. Pricklepants
Frolic your afternoons away on woodland adventures with Mr. Pricklepants! This charming lederhosen-wearing hedgehog is from the Waldfreunde collection of premium imported plush toys. He may look prickly, but the plump and fuzzy Mr. Pricklepants is made strictly for cuddling! Hand wash and air dry. Restore fluffiness with fingers. Made in Germany. Dolly
Dolly is a soft and sweet dress-up rag doll, and is the perfect gift for any young child! Her floppy body and sunny smile will make her an irresistible new member of your family. Dolly has purple hair, googly eyes and gently blushing cheeks. She comes with a pretty blue dress, but templates are included to create and sew your own outfits. Machine washable on gentle cycle. Stretch
Stretch is a fun-loving under-the-sea octopus friend that shines in glittery purple. Kids can count her eight rubbery legs and dozens of sticky suckers that are sure to stand up to rough-and-tumble play and extreme stretching. Toss her high on the wall and watch her climb her way down! Clean in mild soap solution to remove dust and lint. Twitch
Meet Twitch, the insectaloid warrior, where MAN + INSECT = AWESOME! This sturdy action figure stands over five inches tall, with more than 15 points of articulation, including ferocious chomping mandibles. Use his powerful wings and impenetrable exoskeleton to evade capture! Twitch is meticulously detailed and includes his signature magical battle staff and removable chest armor. For children ages 4 and up. Other insectaloid figures sold separately. Trixie
Trixie is a perfect playmate for prehistoric playtime! Visit the era when dinosaurs ruled the Earth! Made of rigid, durable plastic and in friendly shades of blue and purple. Trixie features an expressive mouth and movable legs. This gentle Triceratops will feed any child's imagination. Also available: Tyrannosaurus Rex, Stegosaurus and Velociraptor. Lots-o'-Huggin' Bear
Lots-o'-Huggin' Bear is a jumbo, extra-soft teddy bear with a pink and white plush body and a velvety purple nose. This lovable bear stands fuzzy heads and shoulders above other teddy bears because he smells like sweet strawberries! With a smile that will light up your child's face and a belly just asking to be hugged. Lots-o'-Huggin' Bear is sure to become a bedtime necessity. Stain-resistant. Spot clean plush surface with a damp cloth. Ken
Grab your binoculars and join Ken on a safari! A swinging bachelor who's always on the lookout for fun, Ken sports the perfect outfit for his eco-adventure: light blue shorts and a leopard-print shirt with short sleeves sure to keep him cool in the hot sun. And after his exciting expedition, Ken will be ready to hit the dance floor in style. His accessories include matching scarf, sensible loafers, and a fashion-forward gold belt. Dozens of additional Ken outfits sold separately. Meet the voices behind your favorite characters:         (From left to right) Tom Hanks as Woody, Tim Allen as Buzz, and Joan Cusack as Jesse

        (From left to right) Ned Beatty as Lots-O', Don Rickles as Mr. Potato Head, and Michael Keaton as Ken
Transformers: Dark of the Moon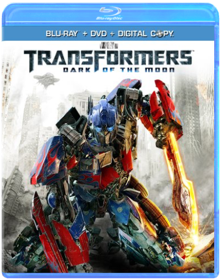 Michael Bay
Transformers: Dark of the Moon (Two-Disc Blu-ray/DVD Combo + Digital Copy)
Up (Four-Disc Blu-ray/DVD Combo + BD Live) [Blu-ray]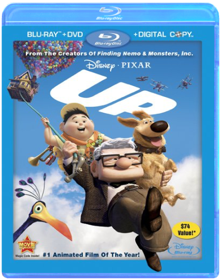 Bob Peterson, Pete Docter
Walt Disney Pictures and Pixar Animation Studios take moviegoers up, up and away on one of the funniest adventures of all time with their latest comedy-fantasy. Up follows the uplifting tale of 78-year-old balloon salesman Carl Fredricksen, who finally fulfills his lifelong dream of a great adventure when he ties thousands of balloons to his house and flies away to the wilds of South America. But he discovers all too late that his biggest nightmare has stowed away on the trip an overly optimistic 8-year-old Wilderness Explorer named Russell. Their journey to a lost world, where they encounter some strange, exotic and surprising characters, is filled with hilarity, emotion and wildly imaginative adventure.
Wild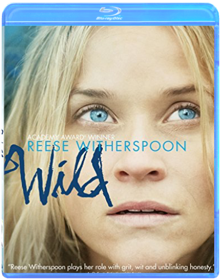 BRAND NEW FACTORY SEALED BLU-RAY + DIGITAL COPY HD WITH SLIP COVER AS SEEN IN PICTURE . SAME DAY FIRST CLASS SHIPPING (2-3 DAYS) WITH CONFIRMATION IN A BUBBLE MAILER ENVELOPE FOR PROTECTION.
World War Z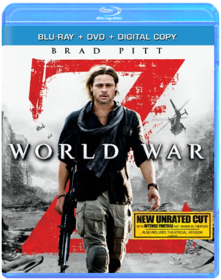 Marc Forster
A former UN investigator is thrust into the middle of trying to stop what could be the end of the world. Worldwide destruction sends him around the globe seeking clues about what they are fighting and what it will take to defeat it, as he tries to save the lives of billions of strangers, as well as his own beloved family.
X-Men Origins: Wolverine - Ultimate 3-Disc Edition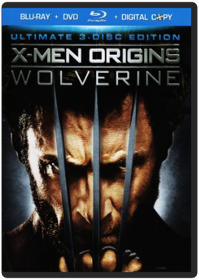 Hugh Jackman, Liev Schreiber, Danny Huston, Dominic Monaghan, Ryan Reynolds, Lynn Collins, Taylor Kitsch, will.i.am, dc adamantium sideshowcollectibles.com metal sound track soundtrack music cd exclusive poster dc spiderman spider man green lantern wolvrine wolveine sideshow collectibles season one two three four vol volume v 1 2 3 4 first second third, fourth trilogy x3 x2 i ii iii iv xm xmow xmo w bd live unleashed sabretooth Limited Edition Blu-ray Gift Set with Wolverine Bust and Gift Card
Ultimate 3-Disc Edition features Blu-ray and DVD copies of the movie, as as a Digital Copy disc! Blu-ray includes X-Men Origins: Wolverine in high-definition and many bonus features, including BD-Live.

Amazon.com Review

Wolverine, fan favorite of the X-Men universe in both comic books and film, gets his own movie vehicle with X-Men Origins: Wolverine, a tale that reaches way, way back into the hairy mutant's story. Somewhere in the wilds of northwest Canada in the early 1800s, two boys grow up amid violence: half-brothers with very special powers. Eventually they will become the near-indestructible warriors (and victims of a super-secret government program) known as Wolverine and Sabretooth, played respectively by Hugh Jackman (returning to his role) and Liev Schreiber (new to the scene). It helps enormously to have Schreiber, an actor of brawny skills, as the showiest villain; the guy can put genuine menace into a vocal inflection or a shift of the eyes. Danny Huston is the sinister government operative whose experiments keep pullin' Wolverine back in, Lynn Collins is the woman who shares a peaceful Canadian co-existence with our hero when he tries to drop out of the program, and Ryan Reynolds adds needed humor, at least for a while. The fast-paced early reels give an entertaining kick-off to the Wolverine saga, only to slow down when a proper plot must be put together—but isn't that perpetually the problem with origin stories? And despite a cool setting, the grand finale is a little hemmed in by certain plot essentials that must be in place for the sequels, which may be why characters do nonsensical things. So, this one is fun while it lasts, if you're not looking for a masterpiece, or an explanation for Wolverine's facial grooming. —Robert Horton
X-Men: First Class (+Digital Copy) [Blu-ray]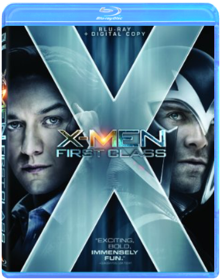 Matthew Vaughn
X-Men: First Class is the thrilling, eye-opening chapter you've been waiting for...Witness the beginning of the X-Men Universe. Before Charles Xavier and Erik Lensherr took the names Professor X and Magneto, they were two young men discovering their superhuman powers for the first time, working together in a desperate attempt to stop the Hellfire Club and a global nuclear war.